bc requested to see some freeware DHC-2 Beavers that I did some mods to. The 3 that I show here were brought foreward to XP-9 from XP-8. I updated them in Plane Maker to XP-10.25 they also work in 10.36. 2D cockpits only but, for those that cannot buy every plane out there, they are a good substitute. All have very good flight characteristics and function correctly. Panels can be modified in Plane Maker to suit your taste although the space limits the mod.
This first one I heard about from an old miner in a Homer bar. We were talking about bush flying and he mentioned an old Beaver in a run down barn up in Eagle that he thought could be bought cheap. So I decided to take a trip to Eagle and see if I could find the old Beaver. I caught a couple mail runs and made it to Eagle and went to the bar. Everyone there knew where it was and who owned it. I found the owner and we made a deal for $xxxxx dollars. I spent a week getting it airworthy and decided to leave the skis on. No time for a cert since I had skeds waiting. So I flew it back low and fast.
Now the problems with update: The skin was skewed, not positioned correctly. The skis that were on it in XP-9 were gone in XP-10 and that is the main reason I wanted this plane. The Skis were built as weapons in XP-8, XP-9 handles that okay and XP-10 does not. So in PM I built skis in Misc.Obj and configured the wheels to retract.
Leaving Eagle with wheels still down.
Wheels up.
I guess a little oil is dripping on the exhaust manifold.
This Beaver was float only and XP kept putting me on land near water. So in Plane Maker I added wheels and gear up capability.
Gear down.
Gear up.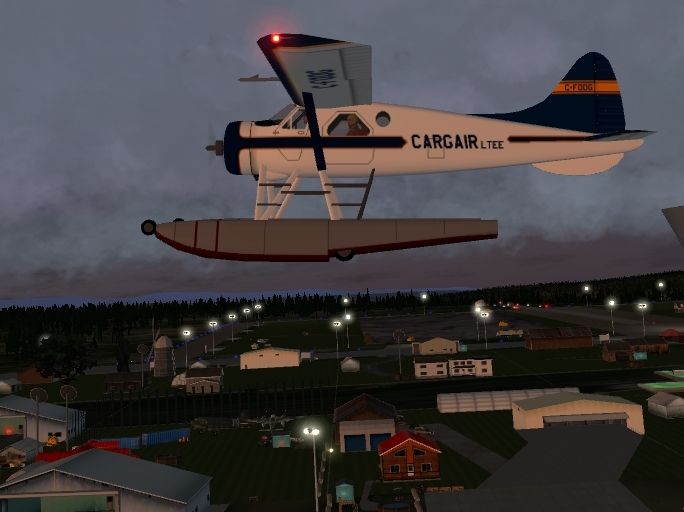 This Beaver had no problems updating to XP-10 and has great engine sounds.